This column is part of a network of newsletters by The XC - a new running publication. Feel free to follow us on Twitter, or subscribe to our original newsletter.
By: Alex Cyr
I write this edition behind the barricades of my remote bunker in the most frigid part of the Arctic, peacefully sipping on chamomile tea, with my Snapchat account switched to ghost mode. I am in hiding, knowing that hours after these words are lovingly forced into your inbox, I may become the most wanted man in America since Jon Bon Jovi. But, joke's on you, intrepid and delicate keyboard warriors: if you do not know where I am, you can't hunt me down, look me in the eyes and call me insensitive, or whatever.
You might argue that this Winners and Losers theme is overdone (almost, but not yet.) Although identifying losers is no longer novelty, I feel like a clarification is still needed:
I don't think anybody on this list is an actual loser. I do think, however, that certain people lost on Fort Henry this year. So for that, they get a shoutout, a callout, and a 'better luck next time' wish from the schmuck who sat in the warm media room watching them do things he only wishes he could.
I know, I know, who's the keyboard warrior now?
Winners
1- Kieran Lumb and Lucia Stafford
Despite quiet months of September and October, both athletes showed up, and won commandingly, when it mattered.
Nobody predicted a victory for either runner just three weeks ago. University of Toronto's Stafford had yet to race this cross-country season, and Lumb of UBC had not produced a fall result good enough to get people excited. On Saturday, they both brought the fastest versions of themselves to Kingston, and those are some pretty damned good versions. Lumb had the fastest 5,000m time in the field (13:40), and Stafford's 1,500m speed is nearly unmatched in Canada's varsity circuit (4:09).
Here are videos of both their finishes:
2- Brothers Mitch and Evan Ubene
Mitch Ubene of Guelph, left, poses with older brother Evan of McMaster.
Mitch, 21, does justice to his status as a favourite and finishes second overall, thanks to a strong last kilometre. He leads the Guelph Gryphons to a bronze medal.
Evan, 23, caps off the best U SPORTS season of his life, after years of battling injury, by being the fifth scorer on McMaster's silver medal-winning squad. Because he placed higher than Guelph's fifth man, he was the deciding factor in the tie-breaker between both teams (each team had 82 points.) Evan pockets a silver medal and bumps down Mitch's Gryphons to bronze.
Congrats to both of you, Evan and Mitch. Now, get rid of those weird goatees.
3- The Queen's women
When they were beaten by a much older Laval team on Fort Henry last year, it felt like their shot at winning a title at home was gone. I feared they were too much like the Montreal Canadiens' defence corps: a few low scorers and lacking depth as a whole.
But they proved me wrong this year, and for that I owe a huge high-five to fourth place finisher Kara Blair, and a hearty fist-bump to Marley Beckett (16th) and Tori Bouck (24th). Oh, and the MacDougalls? Low-scoring as usual (Branna in third and Brogan in sixth.)
A collective score of 53 is quite impressive, especially in the balanced league we have today.
4- The Calgary Dinos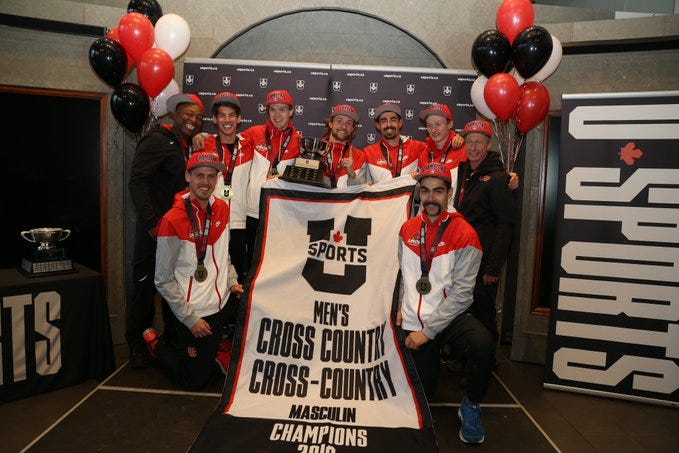 For the second consecutive year, the scrappy Dinos flew in from the West, faced equally strong OUA teams for the first time of the year, and properly edged them out. Consistent performers Russell Pennock, Matt Travaglini and Stefan Daniel collectively scored a minuscule 19 points. Their fourth runner Eric Lutz recovered from a broken back (literally) earlier this year to finish 20th, and sophomore Max Thiessen went from 51st in 2018 to 26th in 2019.
The Dinos are the first Canada West men's team to win two consecutive national titles since the University of Victoria Vikes in 1996 and 1997. In doing so, they proved that last year was no fluke.
Note: I apologize to all Calgary runners, supporters and fans for having pronounced it "Dee-noes" on the live stream Saturday.
5- Joshua Martin and the Windsor Lancer men
I overlapped in Windsor with these people, so pardon my bias.
One of the most storied varsity running programs in Canadian history was represented by a meager total of three men and no women at last year's championship. Josh Martin was one of those men, and placed a forgettable 86th.
The following spring, just as the Lancers started preparing to avenge their weak showing of 2018, longtime cross-country coach Gary Malloy suddenly passed away. The team was left in the hands of assistant coach Anna Paterson and track and field head coach Colin Inglis.
This year, the Lancers fielded two full teams of seven runners. Three of the men had run in one U SPORTS championship prior to this year, and the other four were running at nationals for the first time. Despite their inexperience, they finished fifth overall. Martin was a First team All-Canadian, and placed seventh.
6- Kingston as hosts
The 2019 U SPORTS championship was the last of six major national cross-country events held in Kingston since 2016. Since then, runners across Canada have been spoiled with air-tight meet organization, have been hardened by a carefully crafted course, and have fallen in love with the post-race after-parties (and perhaps AT the post-race after-parties.) So to Steve Boyd, Clive Morgan and co., we collectively tip our hats. May the next host be as gracious and professional as you have been.
Losers
1- Jean-Simon Desgagnés
Jean-Simon Desgagnés had a very rare off day in Kingston
If you understand french, you get the irony.
JSD placed in the top 20, and Laval finished fourth as expected, so why would this count as a loss? The third-year athlete is the reigning U SPORTS silver medalist and his personal bests are matched by nobody in the field save for race winner Kieran Lumb. He had performed so consistently over the last two seasons that his spot on the individual podium seemed secured, and missing on an All-Canadian (top 14) recognition seemed unfathomable.
But, everybody is entitled to a bad day. For someone who isn't used to losing (his name is DesWINS, for heaven's sake) he handled himself with class after he lost his wheels late in the race, and dug deep to secure a good score for his team. And Jean-Simon, if fourth as a team is not enough consolation for you, consider this much: when your 18th place is thought of as bad, you know you're good.
2- Isaiah Frielink… again
This one hurts. We had made enough fun of the Western Mustang when he miscounted his laps in his first ever U SPORTS race in 2017, ran out of steam, and fell from first to 122nd.
The jokes were somewhat forgotten when Frielink finished fifth overall at last year's nationals, and were completely buried when he ran 3:44 and won London's prestigious 1,500m metre night, earlier this summer.
But on Saturday, the 20-year-old once again showed shocking aloofness when he ran a stride in his warmup gear seconds before the gun's crack, and never made it back in time to the start line for the beginning of the men's race.
Frielink, seen roughly 100m ahead of the shot, walks back towards the start line still in his sweats as his teammates begin the race.
3- The AUS
We pick on the ones we love.
Andrew Peverill of Saint Mary's was 19th overall, and Hannah Cormier of UNB was 46th. After that, ouch.
Top men's team: Dalhousie Tigers - 13th
Top women's team: Dalhousie Tigers - 14th
AUS men in the top 70 - Three
AUS women in the top 70 - Five
Sure, the AUS has a smaller number of schools and students than the other three conferences, but we can do better. Let's chalk this one up as an off year and focus on a rebuild. The unofficial word on the street (the street being the lobby of the Kingston Holiday Inn Express) is that Nova Scotian teams put a pretty convincing bid on next year's championship. A national race at home will surely help the conference's growth and ignite some fires on Halifax piers.
4- The Laval women (excluding Anne-Marie Comeau)
Comeau, despite having dealt with an injury earlier in the year, beat everybody but Lucia Stafford and ran a beautiful, gusty race. The rest of her team, not so much. Catherine Beauchemin, the reigning U SPORTS bronze medalist, was 18th. Jessy Lacourse, a first team All-Canadian in 2018, was 20th. Aurélie Dubé-Lavoie dropped all the way from runner-up last year to 21st this year.
In consequence, the defending champions were pummelled by Queen's and Guelph, despite returning their top four runners.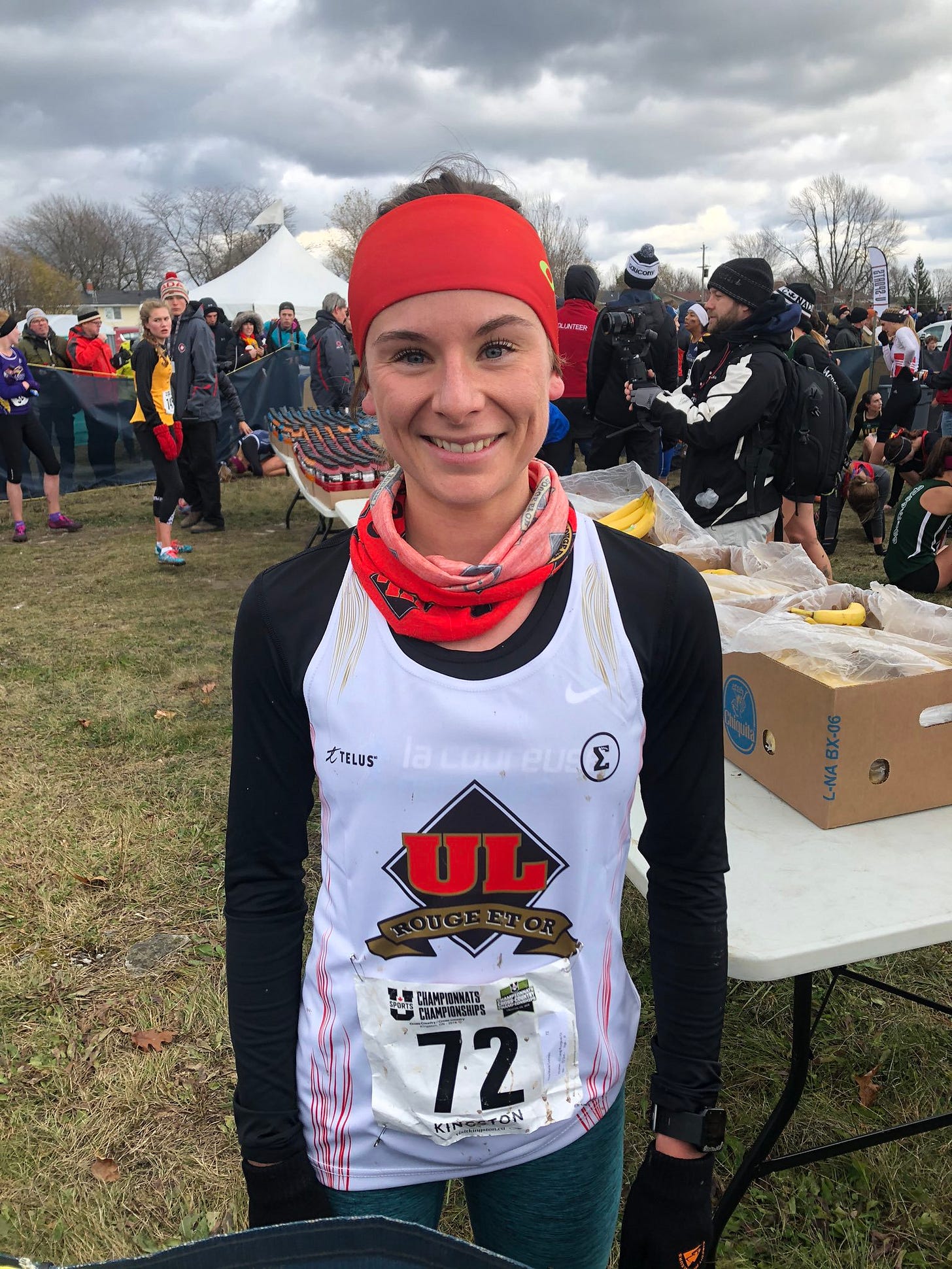 Despite Anne-Marie Comeau's second place finish, the defending champions Laval fell to third this year.
5- Sergio Raez-Villanueva
Raez-Villanueva (right) runs next to last year's U SPORTS champion, Connor Black
THIS one hurts, because one cannot have a conversation with The Surge without coming out of it with a smile. He's the guy you want to see succeed. Off the race course, he is an incredibly pleasant human being. On it, he is ruthless, gutsy and totally clutch.
On Saturday, he was none of those things.
Raez-Villanueva finished 54th, which is far from his best placing at a U SPORTS championship (eighth - 2017.) Had he finished as low as 16th this year, McMaster would have won gold.
Oh well. I'm sure that as he reads this, Sergio will remember the time he finished third in the Ottawa Race weekend 10k on Saturday, and still managed to kick my ass in a track 5,000m sixteen hours later.
That's it for this edition. I hope I did not cause too much offence, and that this post hasn't inspired a witch hunt. Just to be safe, I'm turning off my phone's location tracker and locking my bunker's backdoor in Three, Tw-.
Alex Cyr was a U SPORTS alumnus who lived and studied in Toronto, where he specialized in journalism and glute exercises. He was the author of Runners of the Nish and he liked to tell people he ran the mile in 4:05. His dream was to specialize in the marathon in his thirties, but he was unfortunately hunted down and repeatedly whacked in the shins by angry protestors at the age of 24 after releasing a Winners and Losers column.