The U(pside down) – The Anti-Pred
By: Alex Cyr
Disclaimer: Written and published with only September's races in mind (sorry Drover, you didn't make the cut.) Updated predictions will come before U SPORTS.
Photo: Cross Country et Athlétisme, Facebook
It's weird that so many of us make hasty predictions about how runners will rank at the U SPORTS championship. We should know by now that individual rankings based on September results are often bogus. My coach in Windsor Gary Malloy once told me he never partook in these types of predictions. When I asked why, he said it was because he hated being wrong about things.
Fair enough.
As for the rest of us, we rank away as soon as results surface. Apparently, we don't mind stamping our words on Trackie and then coming across as buffoons when the second year runner we picked to win it all – the one whose legs cramped up when she tried running up the hill to collect her medal after running the race of her life on Thames Valley Golf Course – crashes and burns miserably by mid-October.
My six (seven?) years around the league have taught me that Gary had a point: if you're in the business of being right all the time, early predictions shouldn't be your game. Most of the time, the eventual winners and big players only hit their full stride another three, four, five weeks – they peak later. Don't believe me? Let's look at last year. Here are the winners of the first exhibition conference races of 2018, and their eventual U SPORTS finish: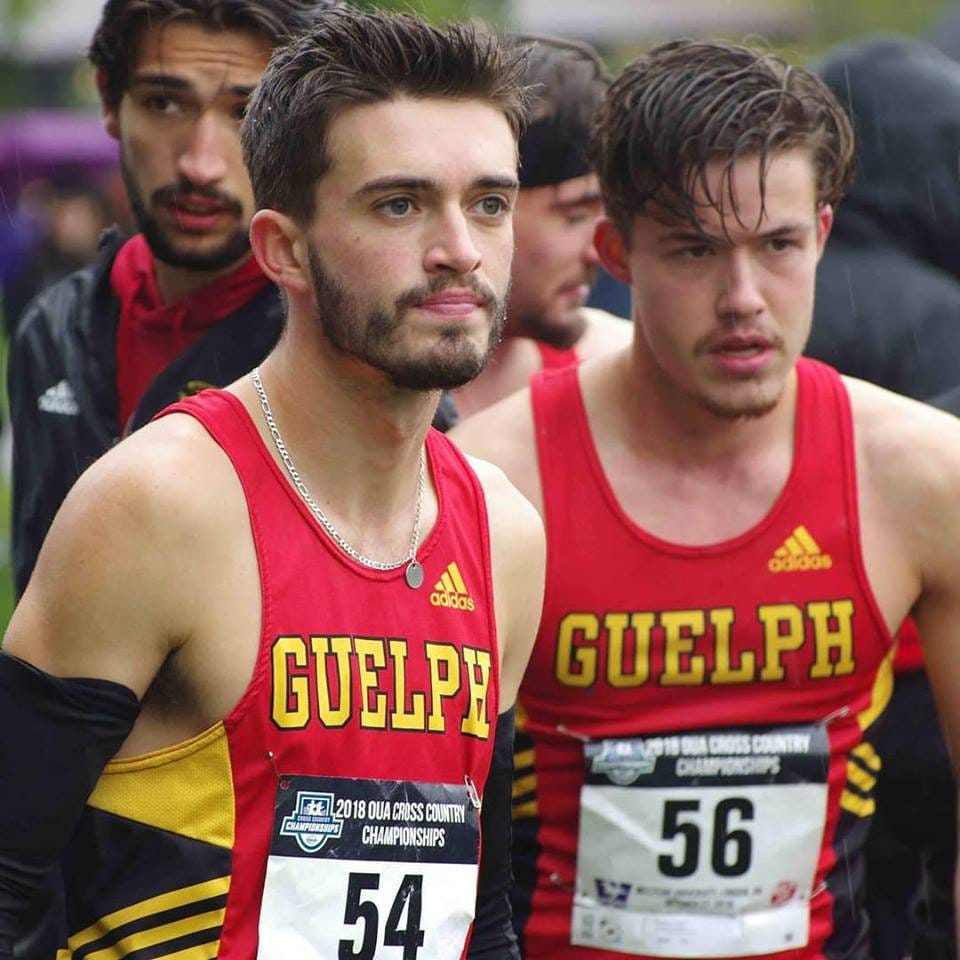 Mark Patton and Andrew Sheppart of the Gryphons. Photo: Mark Patton, Facebook
MEN:
OUA: Mark Patton – U SPORTS placing: 17
AUS: Alex Neuffer – U SPORTS placing: 25
RSEQ: Maxime Lopes – U SPORTS placing: 92
WOMEN:
OUA: Brogan MacDougall – U SPORTS placing: 1*
AUS: Michelle Reddy – U SPORTS placing: 19
RSEQ: Anne-Marie Comeau – U SPORTS placing: 6
CanWest doesn't meet as a conference early in the year, so it's harder to assess how runners match up against each other.
2018 Female eventual U SPORTS winner: Brogan MacDougall. She was not beaten by anybody all year, so she counts as an exception.
2018 Male eventual U SPORTS winner: Connor Black. What was he up to in September of 2018? Getting wrecked by Mike Tate on Mike's third runs of the day.
Connor Black's 2018 U SPORTS victory. Photo: Maxine Gravina
Saskatchewan's Courtney Hufsmith and McMaster's Sergio Raez-Villanueva both had hot summers and came into the season as possible favourites. Their placing at nationals? 11th and 24th, respectively.
Now, all you fit third years are reading this thinking: sh*t. I've been blasting these huge workouts since June and I've raced twice already and I just bought the Nike 4% and I started shaving my legs every day just for this old schmuck to tell me that it was all done in vain? I'm screwed already? This sport sucks. Why did I quit badminton in grade 11?
Don't worry – I'm not spewing out rules, here. Maybe you've beaten the system. Maybe you're more than a flash in the pan and your newfound fitness is a sign of a Jean-Simon Desgagnés-esque breakthrough. Maybe you've flown just close enough to the sun to get a nice tan. You're ready to show the world what you've worked for. You're ready to set fire to the rain. You're probably not on my list.
Yes, I have predictions. Like I said: individual predictions based on September results are often bogus. Unless, perhaps, we flip the script. If an early season peak portends a late season valley, is the reverse true? What if the best predictor of late season success is early season latency? Did I just hack Trackie? Take that, Oldster. I win!
Behold: The Savvy 14. It's all tortoise and no hare, favouring the sleepers and late–starters. Let's see how this holds up in a month.
The Women
1- Brogan MacDougall – Queen's – Truth be told, even if she was to over-race, as long as she stays healthy, she wins. And she hasn't over-raced. She hasn't even raced. She'll be ready when the time comes.
2 - Branna MacDougall – Queen's – "Both MacDougalls at 1-2? Wow, what genius could dream this up? Tell us more, Cyr!" Hey, they're good, they are well-coached, and they are respecting the process of a cross-country season. Why wouldn't they go 1-2? Branna was slowed down by an injury last year, and conserving her for October and November races should prevent that from happening again this year. And if she and her sister are healthy and sharp, nobody beats them.
3- Catherine Beauchemin – Laval – Last year's national bronze medalist has not even reached exhibition podiums so far. She has raced once, and finished fifth in a week field at McGill. Provided she is healthy (and that I don't know) she is set up perfectly to pick up speed from here.
4- Aurélie Dubé-Lavoie – Laval – Beauchemin's teammate was seventh at the Vert et Or Invitational in Sherbrooke, where she trailed the leader by over a minute. That's perfect. A talented veteran like Dubé-Lavoie needs about six weeks to get in shape and contend for a medal, and she hovers nowhere near the overtraining line. Plus, she and Beauchemin can progress through workouts together.
5- Coutney Hufsmith – Saskatchewan – Hufsmith has a proclivity to race hard and often, all year. Perhaps because of that, we've seen her strapped in kinesio-tape at U SPORTS more often than not. But this year, word on the street is that she is focusing on indoor track, and will only race sparingly in cross-country. Watch it happen, she is accidentally going to have the best U SPORTS race of her life thus far.
6- Jessy Lacourse – Laval – I would have put her in the too hot to trot category (below) if she wasn't so dang accomplished. I think she came into the season a bit too fit (she finished over a minute ahead of her training partners in Sherbrooke) but Lacourse finishing any lower than sixth is unlikely. Plus, Laval will need her to contend for the team title, so whether or not she is feeling the burn from her early season races, she'll be pumped up to run fast.
7- Sydney Pattison/Lizzie Laurie – Laurier – Yeah, I know, but hear me out. These two women have quietly climbed up the ranks in these last few years. They are unaffected by the team race at exhibition and conference meets, and get to conserve their energy for the only race that matters. They've raced once so far. They were near the top, but not too near. Perfect striking distance.
Too Hot to Trot:
These are the athletes who look stellar right now, but who won't have the stamina to maintain their current pace until the big dance.
Cameron Ormond – Guelph – All she's done at OFSAA is win, win, win (no matter what) and she's obviously a gamer. But she's a rookie who won the Western meet – that's the ultimate kiss of death. Who knows, maybe she'll prove me wrong - she has ten times the guts I had as a freshman.
Kara Blair – Queen's – Here's my inkling: Blair, a top-level talent, is good enough to work out with the MacDougalls (two topper-level talents.) Slowly, she lights both ends of the candle, and starts burning at the core a bit by November.
Elizabeth Hirsch – McGill – She won her home meet in mid-September, and beat everyone but Lacourse at the Sherbrooke Invite. That includes Dubé-Lavoie. The 21 st place finisher at last year's U SPORTS championship is fitter than ever, and it might be too early for that (cue Kenny Loggins' Danger Zone.)
The Men
1- Jean- Simon Desgagnés – Laval – Last year's silver medalist has only raced once so far, if we can even call it a race. Queen JSD (I still don't know why they call him that) is too strong for anybody in the RSEQ to tire him out (as long as Thomas Fafard doesn't show a sign of life at some point.) For now, he is biding his time, and preparing to pounce. Smart move.
2- Russell Pennock – Calgary – Kind of like in JSD's situation, it seems like no conference opponent of Pennock's can push him, so he won't really have to exert himself until nationals. Here's the difference: Pennock has teammates who can grind him in workouts, and that could be a blessing or a curse. So far, it looks like Calgary is racing sparingly and easily. But, if the Dinos are burning each other on every Monday and Wednesday, their chances at individual and team glory will go extinct. I'm ranking Pennock high, because I trust an athlete of his pedigree is resisting that urge.
3- Matt Travaglini – Calgary – When you reach 26-years-old, you develop old-man strength and become immune to early peaking and burnout. Truth is, no matter what Trav would have done in September, he would be in my top five. Turns out that age makes one wise, too. He's only raced once, and has got gallons of gas in the tank. I'd be shocked if he falls off the podium.
4- Mark Patton – Guelph – Patton was injured for most of the spring and summer, meaning he will race himself into shape, and can avoid falling into the same trap as last year. Remember? He was the U SPORTS favourite after not losing to a single Canadian athlete all cross-country season (except for Max Turek once, and barely) and then finished 17 th at nationals. Patton obviously has the talent to rank high, but he also has a tendency to get tired by mid-November. A late start this year will prevent that.
5- Nick Colyn – Trinity Western – If this guy was sharp, he could have run with the top Dinos in Victoria last weekend. But, he didn't, so I don't think he's that sharp. Like Dubé-Lavoie on the women's side, Colyn has enough cross-country panache to find that extra gear in the weeks that are left. If he does so, he's a first-team AC for the second year in a row.
6- Max Turek – McMaster – Kind of like Lacourse on the women's side, I think Turek is out early and hot. It might hurt him, but he is so talented that I can't see him slide too much. Last year, he was 11 th at nationals, and I'd call it an underperformance. This year, he's no lower than sixth. If he stays healthy and sharp, he might place much higher.
7- Sergio Raez-Villanueva – McMaster – This poor guy was so cooked by U SPORTS last year - I think he's still recovering from his hot boy summer of 2018. But was it ever hot? SRV has some major 10k wheels, and they won't stay hidden forever. He will rise when it's time. And if that doesn't happen, Andrew Peverill of Saint Mary's is seventh.
Too Hot to Trot:
Mitchell Ubene – Guelph – Mitchell Ubene of 2019 is Mark Patton of 2018. Established Gryphon, great track PBs, strong summer season, Western meet champion, top Gryphon at an early NCAA meet. Uh oh.
Alex James – Calgary – This prediction is based on history. This guy is perhaps the most talented runner in all of U SPORTS, but he has only put things together once: 2017. He's already running fast, and has a tendency to burn out. Hard. If he stays in one piece, and Daniel and Lutz bring their A-Game, Calgary has a field day. But if James crashes and burns like he has before, it might be the beginning of the end for the Dinos (but probably not – they are impressively deep.)
Andrew Davies – Mcmaster – I feel bad for putting him here. He is doing everything right. In these two years, he has progressed steadily from promising recruit to reliable stud. He's just out dangerously quick this year. He has shadowed Turek in both his races, and I don't think he's got Turek-level chops just yet. If Davies sticks it out until U SPORTS, and Drover does the same, the Marauders finish second at worst.
—————
Alex Cyr is a U SPORTS alumnus who lives and studies in Toronto, where he specializes in journalism and glute exercises. He is the author of Runners of the Nish and he likes to tell people he runs the mile in 4:05. One day, he will shut everybody up and run a marathon, dang it.
In the meantime, tell your friends!