Why I'm done hating on Guelph
...at least for now
This column is part of a network of newsletters by The XC - a new running publication. Feel free to follow us on Twitter, or subscribe to our original newsletter.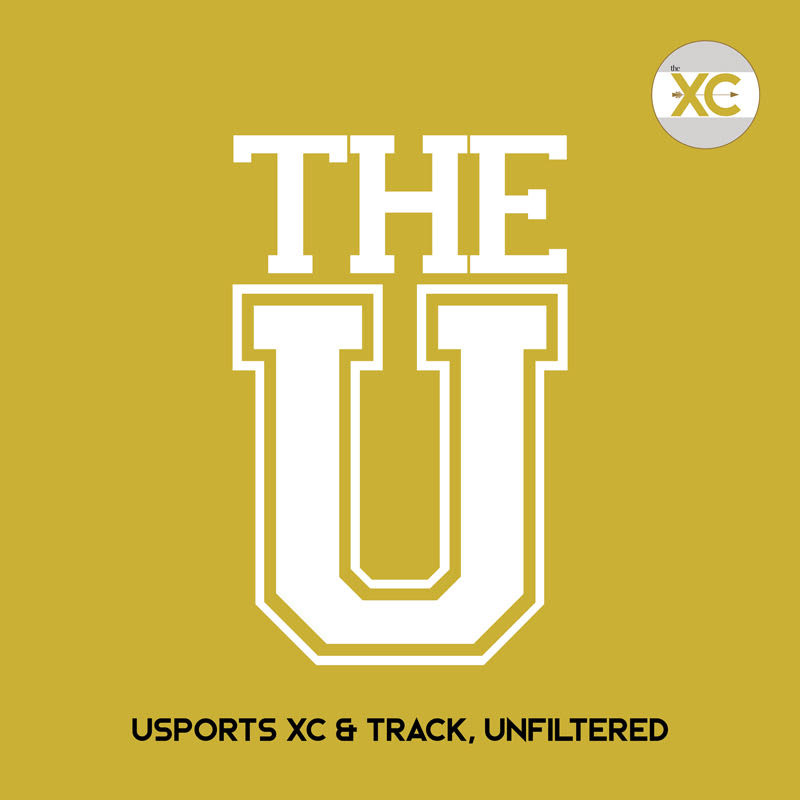 By: Alex Cyr
The Guelph Gryphons won the men's OUA championship last Saturday, and I surprised myself by thinking, "hey, good for them."
Good for them? Seriously?
I had spent years despising the red and yellow, always hoping they would screw it up when it mattered. It's just what we do to an overwhelming favourite - you all secretly hoped the Miami Heat's Big Three would be a hilarious bust (and they almost were.)
But as I watched this video of Guelph senior Mitchell Ubene zooming down the OUA finishing stretch in first place, sporting a look of exhaustion around puzzle pieces of a goatee, I realized something: he is not Ross Proudfoot, and these are not your Grandma's Gryphons.
This version is better. Because this version is beatable.
If you are new to U SPORTS, you might not know where I am coming from.
The first time I encountered the mighty Gryphs was in a Newfoundland hotel lobby before the 2014 U SPORTS (then CIS) championship. They were tall, twenty-something Olympic hopefuls. I was 19, an alternate with St. FX, and petrified. They kept to themselves, flaunted assorted Team Canada backpacks, and terrorized everybody from the cross-country course to the hotel breakfast room. They were one step away from having coach Dave Scott-Thomas lead them down twirly stairs, dress Proudfoot, Woodfine, and Dulhanty in purple and introduce them as Blade, Laser and Blazer.
But unlike in Dodgeball, where the Globo Gym bad guys suffer a harrowing loss to Pete Lafleur's Average Joes, the Gryphons cut through the wind of Pippy Park and trounced everyone on championship day. Again.
For parts of the last two decades, Guelph had been so good that they were poisoning the league. The women won every national championship between 2005 and 2016, and the men between 2006 and 2014. We remember those times as the everybody-else-versus-Guelph era, during which everybody else always lost. For being unbeatable, they became villains. But it's time to forgive them.
To be clear, I have no personal qualms with the school, or any individual Gryphon. Gen Lalonde is one of the kindest people I've met, and Aaron Hendrikx was the first person to shove paper towels in my face at last year's XC nationals afterparty to stop the nosebleed I got when I - it doesn't matter.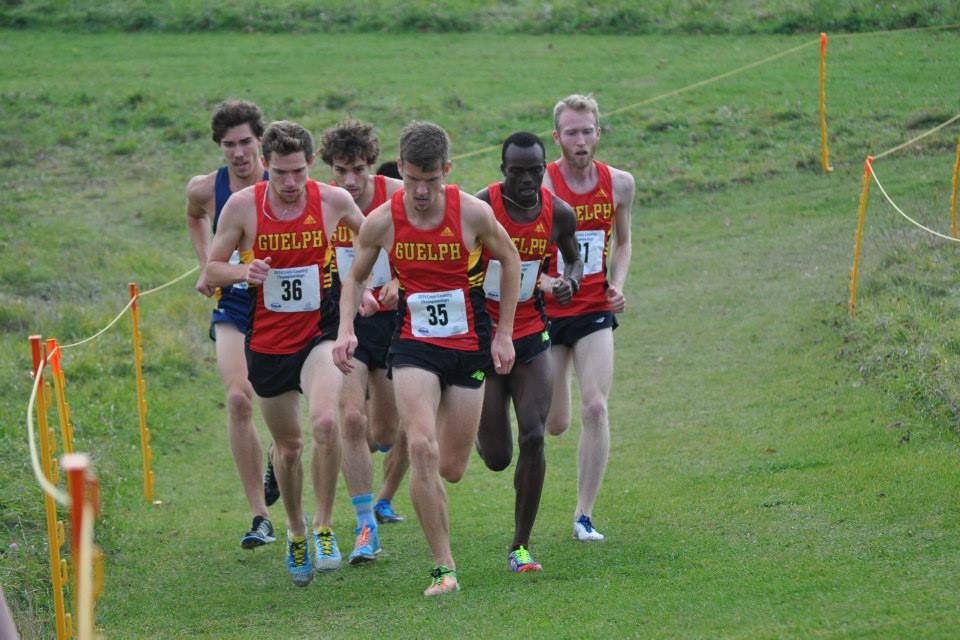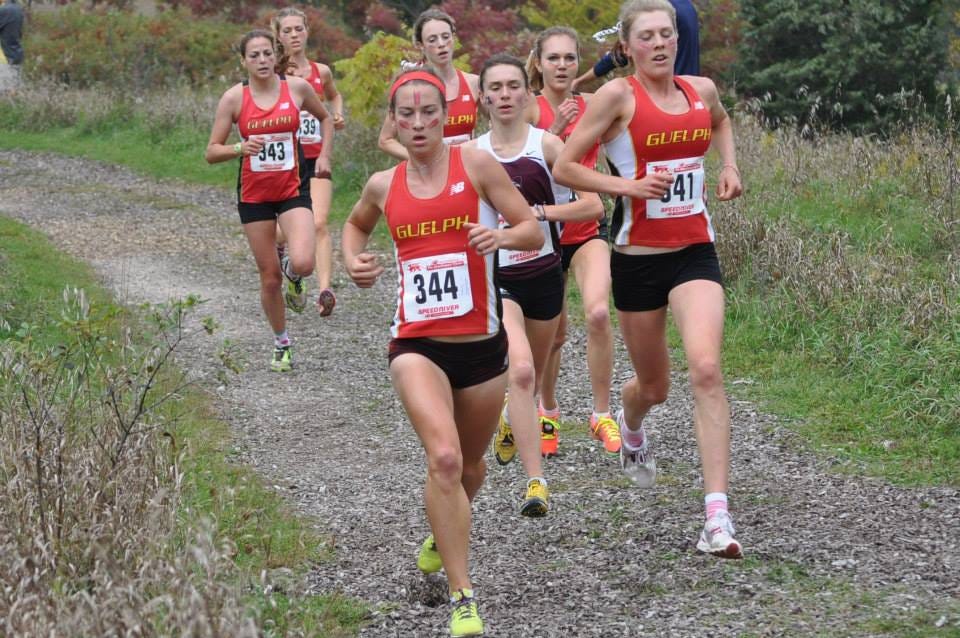 Here is my point: it's about time to retire them as The Bad Guys. That day in Newfoundland in 2014 was the last time the Gryphons handily won both races - the women by a whopping 71 points and the men by 76.
It has now been five years since the last time they've made a mockery of our circuit, and we can say with certainty that the league has caught up. For that, we have the terrible Gryphons to thank - they built an NCAA Division I-calibre program in Canada before it was cool, and forced other teams to clean up their act.
Now, we have parity in the league, and it's awesome. Guelph still wins on occasion, but their wins are nail biters. The Gryphons now fight with the Calgary men, the Queen's women, a young McMaster squad, and hungry Laval teams. So, before we venture to Kingston next weekend, we must find time to take a good look at ourselves in the mirror, forget all that we know, spin around three times, and say the following:
There is no reason to hate the Gryphons anymore.
Like I said, they are beatable now. And something else, they are kind of easy to cheer for.
The women have Cameron Ormond, an incoming OFSAA superstar still learning the ropes of the circuit. They have Sadie-Jane Hickson and Hannah Woodhouse, who have quietly improved for years, and are one race away from a major breakthrough. They have 2018 first team All-Canadian Danielle Jossinet, who hopes to lead her team to victory despite battling injury since February. If anything, the Gryphon women sound kind of under-doggy.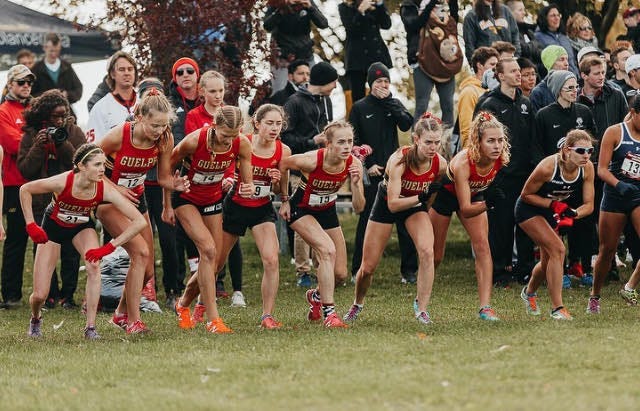 The Guelph Gryphons of 2019 were second at the OUA championship
The men have an exciting mix of high-profile runners and little-known grinders. Part of their team are Ubene and Mark Patton types, who can challenge the best runners in the country on any given day. The other part comprises breakout young guns, like John Perrier and Kalum Delaney, who have little to no U SPORTS experience - I don't even know what these guys look like, and I had to look up if it was "Kallum" or "Callum" (it was neither!) Right now, it's harder to predict in what order the Gryphons will finish amongst themselves than it is to predict their place in the final team rankings.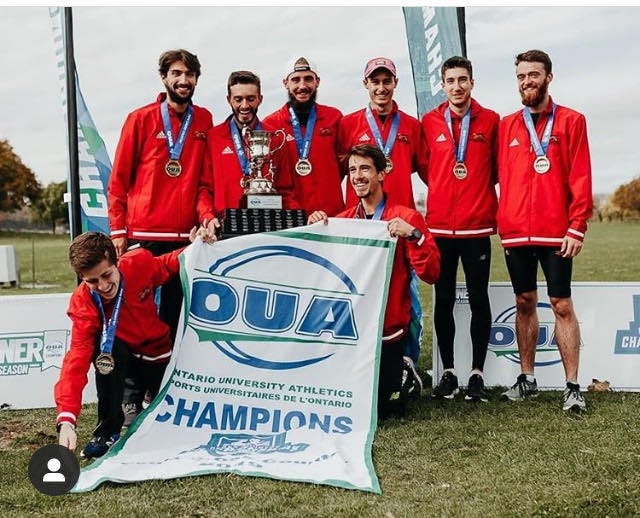 The 2019 Guelph Gryphon men, OUA champions
The Gryphons of today are still elite and fast, but they are also young and imperfect. If Guelph of the past is the NHL, present-day Guelph is World Junior hockey. And World Junior hockey, for its chaos and unpredictability, is more fun to watch than NHL hockey (it is, don't pretend like you didn't shriek when Eberle scored the game-tier against Russia in 2010.)
At this year's U SPORTS championship, there will be no Carise Thompson, Aaron Hendrikx and co. slapping everybody around for half an hour. Instead, there will be two exciting battles.
So this year, I'm wishing the Gryphons well at nationals, as they take on a handful of equally competent squads. May the best two teams win - it's nice to not yet know who they are.